So concludes the 1958 MGM picture IT! The Terror From Beyond Space. The film is a classic example of the United States' conflicted relationship with science, which had ended the war with unthinkable, catastrophic destruction, and was continuing to develop at a breakneck pace. Atomic age science fiction is often about the perils of tampering in matters we should not, or reaching too far too fast. Analogs could be drawn with today's paranoia over machine learning and whether or not our technology is outpacing our morality/humanity.
But fear not, for this blog post won't be waxing philosophical. Instead, I want to review a figure of the titular creature from IT!, released back in 2016 by Monstarz for Amok Time.
The figure is 4.25″ tall and boasts 8 points of articulation including a ball jointed head, swivel shoulders, elbows, wrists
and waist. There's no articulation for his lower half, but the figure stands fine on its own and I can't think of many posing opportunities that would require much movement down there.
Overall the articulation works well, although the shoulders are cut at an angle. While this is great for reproducing the wide armed menacing pose from the poster, it also easily transforms into a goofy, "Give me a hug," look if you're not careful.
Also included are a pegged display base for him to stand on and an alternate head, which I'll discuss momentarily. It's all packaged nicely on a clear blister card that lets you display the figure packaged, if that's your thing.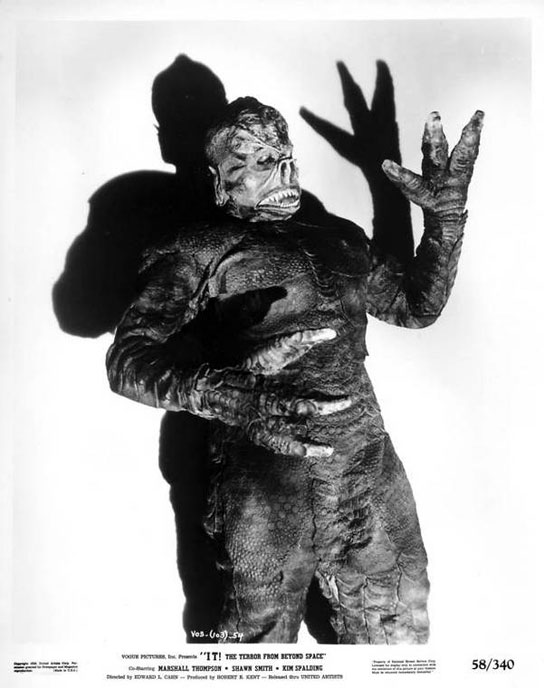 The sculpt is pretty great for so small a scale. Each tiny scale and pockmark is accounted for. The sculptors (who sadly go uncredited on the packaging) also did a remarkable job balancing the sculpt between realistic monster and the man-in-a-rubber-suit look of the actual costume.
Said costume was sculpted by AIP veteran Paul Blaisdell. The creature's performance was brought to life by Ray "Crash" Corrigan, in what was to be his final role. Corrigan was in a losing battle with alcoholism when he was cast and – reportedly on a bender – never made it to the costume fitting. Needing to finish his work, Blaisdell modeled the creature's head on his own. It turns out their heads were vastly different sizes and even after alterations, Corrigan's jaw poked through the creature's mouth. Necessity being the mother of invention, director Edward Cahn ordered that Corrigan's protruding chin be painted up like the monster's tongue.
The included alternate head features Corrigan's trademark chin-tongue, which looks pretty faithful to how it appeared on screen. The heads pop on and off easily via ball joint, and stay on securely. The ball joint is mostly for the removable head feature, because it doesn't offer much more movement than a typical swivel.
Monstars offers IT in three different colorways as limited editions of 500 each. I went with the black and white variant because how he appears on screen is how I'm most familiar with the creature. At first I thought the painted chin should have also been reproduced in shades of gray, but actually it's a nice pop of color on a sea of monochrome. The other two variants offered are "Red Sands," which I believe reflects how the costume looked in real life, and "Alien Green," which duplicates how the creature was depicted on film posters and lobby cards.
Overall, I'm enormously satisfied with this figure. The scale is great if you don't have a lot of display room and the articulation is the perfect amount for the size. IT! The Terror From Beyond Space is a film I'm terribly fond of. Despite some of its issues (you can't spell 1950s without sexism), it's a solid film that laid the foundation for some of my favorites later. Monstars seems to have their finger on the pulse of the classic horror/sci-fi toy market, also producing figures of the Morlocks from The Time Machine and Klaatu and Gort from The Day the Earth Stood Still. If they continue in this vein, I'd love to see a reproduction of James Arness as The Thing From Another World.